Twenty Sixteen, here we come…..
Yes, January 2016, a new year with resolutions, lists, goals, plans – and lots of sewing to fit in between life.
Firstly happy new year to all, hope you had a great Christmas – spending time with family and friends, and wishing a healthy and prosperous year ahead. It seems that there is never enough time to stitch, but somehow we will get it all done? Maybe?
I know, again it has been awhile since we last spoke, but have a little bit of catching up to do, so here goes..
Firstly, I will show a quilt that Belinda finished in December, from my Wednesday class at Patchwork on Parker, Cootamundra.  She has worked tirelessly on this all year, her Vera Gollash quilt is now done – great work and it looks beautiful in soft pastels.
A close up, and all that piecing, applique and quilting, but all worth it in the end. Just gorgeous.
Second show and tell, a quilt I did for a dear family friend,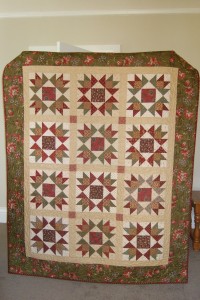 A gift for a 21st birthday, autumn tones as requested.
This next one is a little different to what I usually do, but quite suited to a friend's son, his birthday quilt also, in his favourite footy team colours – Cootamundra Tricolours!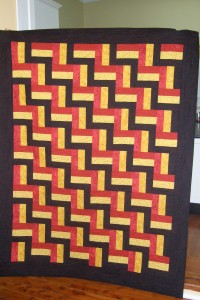 And, as one must always have one started before one finishes another, pleased to say that I have used some of my Di Ford fabrics in this quilt. "Lochiel" is ready to be quilted finally, and I must say the Cloverdale range by Di Ford was beautiful to work with, great quality,  and I believe there is a second range ready to hit the stores mid year, and it is gorgeous too. Can't wait to see it, and buy some!!
And so to start another, below is a pile for the next project, most of the fabric is the Georgetown range by J Rothermel.  You will have to watch this space to see what becomes of this.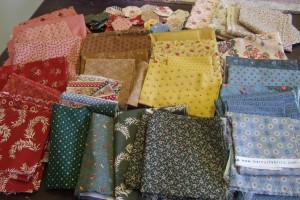 Then, just before Christmas, had some amazing news, soooo exciting!!!  I am very grateful to announce that I have stockists in the USA. You are now be able to buy my Country Matters patterns from Sarah and Dolores at  Homestead Hearth in Missouri, and Val Langue at The Quilt Merchant in Illinois. Just the best Chrissie present, thankyou ladies for your support, it means a great deal.
And, who knows what else may happen in the new year?  My local classes will commence in February, and the first road trip mid February will see me heading to the hills of Cooma to a weekend of bliss with Fay and Maggie, where they will be starting my Vera Gollasch quilt.  For further information, just leave a comment or send me a message on facebook.
Well that's all folks, for now at least. Better save a little bit for the next post!  Happy days and talk again soon,
Janelle