FABRICS AND FIBRES EXHIBITION
Cootamundra Arts Centre, Wallendoon Street, open till 9th August, 10 – 4pm daily.
There are 3 artists showing their works, Bev Moxon with the amazing basketry, weaving and gords, Jemina Saunders and The Wired Lab with the natural silk dying – scarves, clothing etc, and myself, with some of the quilts that I have produced so far.  The exhibition is a great mix of works, if you have time to call in and have a look please do so.  It is a gold coin donation towards a very worthy cause.
Below is 'Retreat Station' quilt, then silk dying and in the background is 'Sunday Leftovers'.  Bev's work is on the white stands.
Next is lots of silks, my quilts 'Pinchgut Valley' and 'Blackgate Interchange' in the backround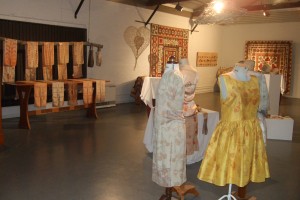 And a tree if scarves and amazing weaving in the corner.  'Level Crossing' hanging on the wall.
There is lots more to see in Studio 4, and of course it will look so much better in real life, my photos don't do it justice – you will just have to come and have a look for yourself,  great coffee shops nearby for a snack if needed.
Hope you are keeping warm and well,till next time, Janelle