Janelle's Class update
Thought a small update on class activity was needed.  Now that it is winter, we have no excuse but to be stitching, especially the hand piecing, which is what I have to show you today.
Rita's scrappy 1″ hexagon quilt top, my photo has taken some of the colour from it, it is just gorgeous,
From over at Young, we have Carmel's version of Salvation Jane – with extra border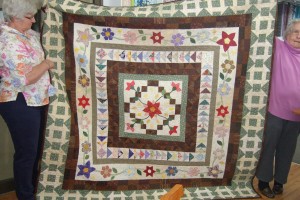 and Carol's Confetti quilt (design by Irene Blanc), very very nice.
Last class, we had a 'show of rows' for the Vera Gollasch quilt.  Carol's rows of Vera done so far,
Julie's rows of Vera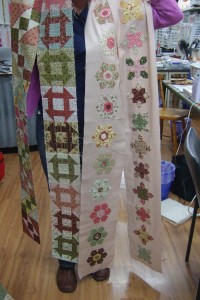 And below are Joan's rows, we nearly had to put Joan on a chair!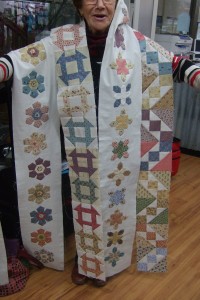 And look at what Helen is doing, introducing her Dear Prudence quilt, 1/2″ hexagons and lots of them, beautiful in greens and reds/pinks…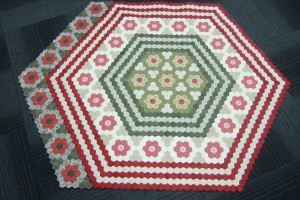 And mine…it has reached a stand still, as Lucy Boston needs to get finished.  Mine is in browns and pinks mainly.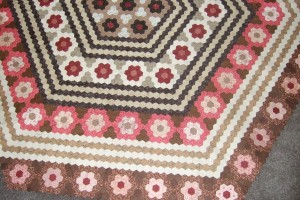 Hope all is well, keep warm and see you again soon, Janelle
P.S.  Save the Date – Friday July 31, there will be a Fabrics and Fibres exhibition in Cootamundra at The Arts Centre.  I am excited to say I will have a few quilts on display as part of the exhibition, it will run for 10 days, all enquiries welcome.