Updates…..
It seems that I can only get to the computer every month or so to get this done.   And then I don't seem to have enough photos.  Since we last met, after the exhibition I had a week off to get my head around what is next.  A big thankyou to all those who went along to see the exhibition, it was very well presented with all the different styles of 'Fabric and Fibres' and a congratulations must go to Cootamundra Arts Centre for all the hard work they put in.  I have been hearing that there where lots of great comments made and thankyou again for supporting a worthy cause.  I hear that a date has been set for the exhibition to be on again next year, same time, theme will be 'Fabric and Fibres, Steel and Stone', so no time like the present to get the thinking caps on and start a creation or two.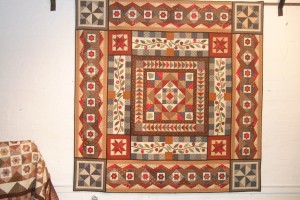 This is my newest quilt design, Pinchgut Valley. All finished now and in one piece, an old one that got started a couple of years ago, and wanted to get it done for the exhibition (thankyou to my couple of helpers who did the binding for me).  I have made it quilt-as-you-go, mostly machine done with a little applique and of course some hexagons. Pattern for it will be available very soon, and I will be teaching it in classes next year.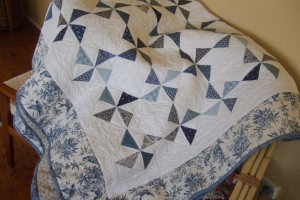 This is Steph's Pinwheel quilt, beautiful bed size quilt, another one finished, notes and pattern are now available.  This would be great in any colour or fabric, find your border and away you go.
The last weekend in August, I was very excited to travel down to Ulladulla, for the annual Quilters Gathering, hosted by the lovely Marilyn from Marilyn's Craft Corner.  This was the 21st year of the gathering, with a great attendance and some amazing tutors to keep everyone busy.  Not to mention the wonderful ladies that came and sat in my corner of the room, and worked on Gretel's Garden for the weekend.  This is a little of what they got done, Faye on the end had finished her Gretel quilt, see below, and is now working on The Vera Gollasch quilt, which will possibly be next year's project.  Thankyou to Marilyn for having me there, great to meet so many lovely ladies and make some new friends,  and honoured to be asked back again next year.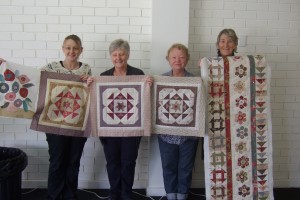 Faye's version of Gretel's Garden, just gorgeous!!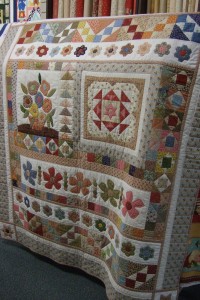 And, still working on Lucy, got a couple of rows together, slow and steady don't they say?  Maybe have some progress for the next post.
Till next time, Janelle